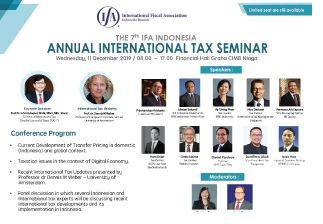 International Fiscal Association (IFA) Indonesia kembali mengadakan seminar tahunan : "The 7th IFA Indonesia Annual International Tax Seminar".
Jadwal dan Tempat Penyelenggaraan
Hari/Tanggal : Rabu, 11 Desember 2019
Waktu : Jam 08.00 – 17.00 WIB
Tempat : Financial Hall Graha CIMB Niaga, Jakarta
Isu-Isu yang Dibahas dalam Seminar Tersebut Antara Lain :
Current Development of Transfer Pricing in domestic (Indonesia) and global context.
Taxation issues in the context of Digital Economy.
Recent International Tax Updates presented by Professor dr Dennis M Weber – University of Amsterdam.
Panel discussion in which several Indonesian and international tax expert will be discussing recent international tax developments and its implementation in Indonesia.
Apabila ada pertanyaan terkait kegiatan ini, Bapak/Ibu dapat menghubungi:
Indah Ratnaningati (021 5140 1340 (ext. 5032) atau 0817 915 6110)