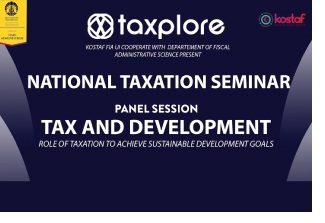 TAXPLORE 2019 is proud to present you The National Taxation Seminar with our theme "TAX AND DEVELOPMENT: The Role of Taxation to Achieve Sustainable Development Goals"
This year, we will bring you leading figures with our Panel Session "Tax and development : The Role of Taxation to Achieve Sustainable Development Goals
Prof. Suahasil Nazara, S.E., M.Sc., PhD.
(Vice Minister of Finance) *to be confirmed
Drs. Hestu Yoga Saksama, AK., M.B.T
(Director of Counseling, Services, and Public Relation DJP)
Prof. Dr. Haula Rosdiana, M.Si
(Academician)
Darussalam, SE., AK., CA., M.Si., LL.M.Int.Tax
(Managing Partner DDTC)
The Seminar will be held on Wednesday, November 27th 2019 at Auditorium Vokasi, Universitas Indonesia Depok.
You will only pay 30k for the opportunities to get the insights from our panelist, and also you get certificate, coffee break, and goodie bag (Map, Notebook, Pen).
In addition, 100 First attendance get Free Tumblr!
What are you waiting for? Register yourself and order your ticket at bit.ly/NationalSeminarTaxplore19
For Further Info:
JOHAN: 082243172698 / johanfaaried
Instagram: taxplore.ui
Line: @taxplore.ui
Twitter: taxploreui