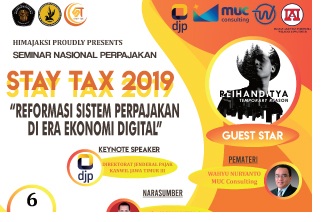 Apasih Stay Tax itu?
Stay Tax merupakan program rutin tahunan berupa Seminar dan Talkshow yang diselenggarakan oleh Himpunan Mahasiswa Perpajakan Vokasi (HIMAJAKSI) Universitas Brawijaya. Kegiatan ini terdiri dari Seminar Nasional dan Talkshow.
📣PENGISI ACARA
• Keynote Speaker : Direktorat Jenderal Pajak Kanwil Jawa Timur III
• Pemateri :
Wahyu Nuryanto (MUC Consulting Group)
• Narasumber :
Dr. Alfian Wika C. (CEO and Founder of Wikacell)
• Moderator Talkshow:
San Rudiyanto, S.E., MSA, Ak, CA
• Moderator Seminar:
Anisya Sukmawati, S.E., MSA, Ak, CA
SAVE THE DATE:
📅 : Selasa, 03 Desember 2019
⏰ : 07.30 – Selesai.
📍 : Gedung Widyaloka, Universitas Brawijaya.
Fasilitas :
📒 Seminar Kit
📃 Sertifikat Ber-SKP (6 SKP)
🍛 Makan Siang
🍩 Snack
🎁 Doorprize
Apabila ada pertanyaan terkait kegiatan ini, Bapak/Ibu dapat menghubungi:
Chika (087700911990) atau Albert (081331529327)