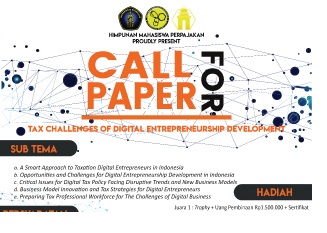 CFP dan SEMNAS 2019 – Universitas Brawijaya
[ TAX SERIES | Call For Paper 2019 ]
Halo Masyarakat Indonesia!!
HIMAPAJAK dengan bangga mempersembahkan Call For Paper 2019.
Call for Paper 2019 merupakan salah satu rangkaian acara Tax Series 2019 yang diselenggarakan oleh Himpunan Mahasiswa Perpajakan (HIMAPAJAK), Fakultas Ilmu Administrasi, Universitas Brawijaya. Call for Paper 2019 diikuti oleh Mahasiswa Perpajakan dari berbagai Universitas/Sekolah Tinggi/Swasta/Negeri dengan diwakili oleh maksimal 2 (dua) tim untuk menjadi delegasinya.
Call for Paper 2019 merupakan salah satu kegiatan yang mempertemukan Mahasiswa Perpajakan di Indonesia untuk berpikir secara kritis dengan menyampaikan ide dan gagasan mereka dengan tema "Tax Challenges Of Digital Entrepreneurship Development".
Timeline Pendaftaran :
• Gelombang I : 24 Juni – 08 Juli 2019
• Gelombang II : 12 – 27 Juli 2019
Untuk formulir pendaftaran dapat diunduh dibawah ini :
• 📋Formulir Pendaftaran :
http://bit.ly/PendaftaranCFP2019
• 📝Lampiran :
http://bit.ly/LampiranAbstrakCFP
• 📒 Booklet :
http://bit.ly/BookletCFP2019
Ayo segera daftarkan tim mu dan jangan sampai melewatkan kesempatan ini!!!
Create your ideas and do your best because creativity takes courage!!!
Contact Us :
👤 Line: @jessicahtgl / 📲 WA: 082192832401
👤 Line: @dinipetronella / 📲 WA: 08971661607
Official Account Tax Series 2019
http://line.me/ti/p/~@vdl6293m
http://instagram.com/taxseries.ub
——-‐————‐————————
Departemen Pengembangan Sumber Daya Anggota
Himpunan Mahasiswa Perpajakan 2019
#HIMAPAJAKJuaraMengispirasi
#TaxSeries2019
#TaxPlanningCompetition
#CallForPaper
#SeminarNasionalPerpajakan