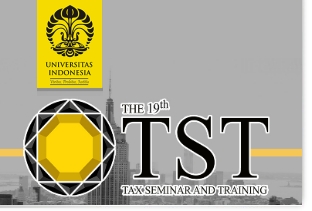 The 19th Tax Seminar and Training (The 19th TST) merupakan acara seminar dan training perpajakan yang ditujukan untuk profesional perpajakan, diadakan oleh Studi Profesionalisme Akuntan – Fakultas Ekonomi dan Bisnis Universitas Indonesia.
Tahun ini, kami mengangkat tema Comprehensive Discussion on Indonesia s Tax Reform: Understanding the Outlook and Preparing Strategies to Face Current Emerging Issues yang akan diselenggarakan pada:
Hari/Tanggal : Rabu – Jum'at, 6-8 Juni 2018
Waktu : 09.00 – selesai
Tempat : The Westin Jakarta
Pembicara dan trainer terkemuka di perpajakan Indonesia akan hadir seperti Robert Pakpahan dari Direktorat Jenderal Pajak dan Darussalam, S.E., Ak., CA, M.Si., LL.M. Int. Tax (Managing Director/Founder of Danny Darussalam Tax Center).
Berikut harga tiket seminar dan training:
• Seminar: Rp2.000.000
• Training: Rp3.000.000
• Full Package: Rp4.000.000
*Untuk pendaftaran minimal tiga orang, terdapat potongan harga.*
Peserta yang merupakan anggota Ikatan Akuntan Indonesia (IAI) akan mendapatkan *poin SKP* (Satuan Kredit PPL).
Contact Person:
Shinta Aprilia Islamiyati (0822 1110 1142)
Manager of Information & Registration Division