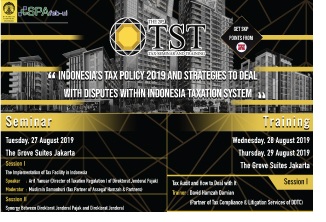 The 20th Tax Seminar and Training merupakan acara seminar dan training perpajakan yang ditujukan untuk praktisi pajak dan mahasiswa pascasarjana, diadakan oleh Studi Profesionalisme Akuntan, Fakultas Ekonomi dan Bisnis, Universitas Indonesia.
Tahun ini, kami mengangkat tema "Indonesia's Tax Policy 2019 and Strategies to Deal with Disputes within Indonesia Taxation System" yang akan diselenggarakan pada:
Hari/Tanggal : Selasa, 27 Agustus 2019 – Kamis, 29 Agustus 2019
Waktu : 08.30 – selesai
Tempat : The Grove Suites Jakarta
Selain membawa isu yang menarik, The 20th TST juga turut menghadirkan pembicara dan trainer terkemuka di perpajakan Indonesia seperti Direktorat Jenderal Pajak, Danny Darussalam Tax Center, Direktorat Jenderal Bea dan Cukai, dan beberapa KAP dari The Big 4.
Berikut daftar harga tiket seminar dan training kami:
Seminar: Umum : Rp 2.100.000,-
Training: Umum : Rp 3.100.000,-
Full Package: Umum : Rp 4.100.000,-
Apabila terdapat pertanyaan atau informasi lebih lanjut, silahkan hubungi contact person kami di bawah ini.
Contact Person:
Catherine Tobing (0812 1854 6968)
Nurul Nurjannah (0857 7091 8213)
Email: info.tstfebui@gmail.com
Website: www.tst-febui.com Information & Registration Division