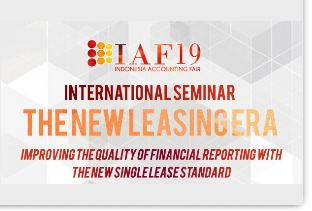 Dont miss your chance to join the biggest and the oldest accounting event in Indonesia
INDONESIA ACCOUNTING FAIR 19.
Indonesian Accounting Fair is an annual event held by Studi Pofesionalisme Akuntan FEB UI which invites experts, practitioners, and students to discuss the current issues of accounting with this year's theme: "The New Leasing Era: Improving The Quality of Financial Reporting with The Single Lease Standard".
This seminar will be held on March 6th, 2018 at Auditorium R. Soeria Atmadja, Faculty of Economics and Business Universitas Indonesia, Depok, West Java.
Student IDR 50.000
Public IDR 120.000
through : bit.ly/IAF19seminar
Still have inquiries about our seminar? Please kindly contact us:
Tari
line mentariand
phone +6287887579246
Angel
line: angiedasma
phone: +6285210829745
(www.iaf-febui.com)
Line: @ibf5815p
Twitter: @iaf_febui
Instagram: iaf_febui
Facebook: Indonesia Accounting Fair