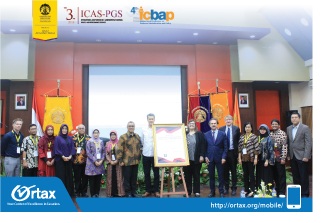 [Press Release]
Kumpulkan Para Pakar Hadapi Industri 4.0, FIA UI Gelar Konferensi The 3rd ICAS-PGS and the 4th ICBAP
Fakultas Ilmu Administrasi Universitas Indonesia (FIA UI) didukung oleh IFTAA, AIABI, dan IAPA gelar konferensi internasional the 3rd International Conference on Administrative Science, Policy, and Governance Studies 2018 (3rd ICAS-PGS 2018) untuk mengeksplorasi peluang dan tantangan serta memperkuat strategi reformasi kebijakan pemerintahan untuk mempromosikan daya saing dan inovasi dalam industri 4.0. Konferensi ini menjadi networking hub dan diseminasi berbagai studi terkini di bidang ilmu administrasi yang dihadiri oleh lebih dari 100 orang pakar dan akademisi dari dalam dan luar negeri.
Konferensi tahunan ketiga yang digelar FIA UI ini mengangkat tema "Strengthening Strategic Administrative Reform Policy to Promote Competitiveness and Innovation in Industrial Revolution 4.0: Opportunities and Challenges."
Kegiatan ini turut menghadirkan keynote speakers dari dalam dan luar negeri yaitu Prof. Mark Considine (University of Melbourne, Australia), Professor Lee Burns (University of Sydney, Australia), Prof. Harald Fuhr (University of Postdam, Jerman), serta Noni Purnomo, MBA(Direktur Blue Bird).
Konferensi yang diadakan pada 30-31 Oktober 2019 ini dibagi dalam 3 subtopik ilmu administrasi, yakni Ilmu Administrasi Negara, Ilmu Administrasi Niaga, dan Ilmu Administrasi Fiskal.
Dalam subtopik ilmu administrasi negara, lingkup studi yang dibahas seputar kebijakan stratejik dan peningkatan kapasitas birokrasi untuk memperkuat daya saing dan inovasi menyongsong industri 4.0.
Selain itu, subptopik ilmu administrasi niaga lebih membahas mengenai transformasi bisnis untuk memperkuat daya saing dan inovasi menyongsong industri 4.0.
Sedangkan dalam subtopik ilmu administrasi fiskal, lingkup studi yang dibahas adalah tentang bagaimana mengoptimalisasikan kebijakan perpajakan untuk meningkatkan daya saing dan inovasi menyongsong industri 4.0.
Dalam kegiatan ICAS-PGS ini, FIA UI juga turut melakukan soft-launching program Dual Master Degree in Public Policy and Management dengan University of Melbourne. Program ini didesain untuk mahasiswa yang berminat mengambil studi di Indonesia (1 tahun) dan Australia (1 tahun) sehingga mahasiwa akan mendapatkan 2 gelar setelah menyelesaikan program studi ini.
Contact Person:
Wahyu Mahendra 0856 2541 118
Kepala Humas